Did you forget your password AGAIN?
Michael Geary | Thu, 2004-09-09 16:56
category
If you're old enough, you may remember when software tried to be "user friendly." This was before we had Interaction Designers, Usability Consultants, and the like. Nobody was quite sure what "user friendly" was supposed to mean, but it sounded like a good idea.
Sometimes it meant "easy to learn and use", and that was a good idea. Other times it meant "be friendly to the user". That didn't always work out so well.
Windows XP tries hard to be friendly, but there's one place where it annoys the heck out of me. No, it's not the doggie who does tricks when you search for a file.
It's the error message when I mistype my password at the Welcome screen: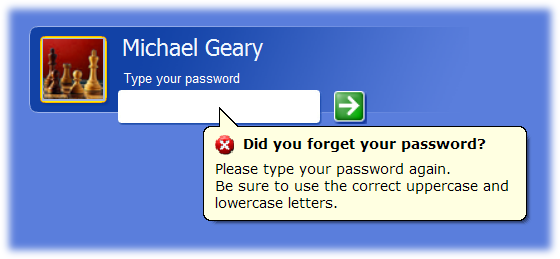 Every time I see that, I have to stop myself from reading it as "Did you forget your password AGAIN?" And I want to reply, "No, I didn't forget my password, you blithering idiot, I mistyped it! Do you have a problem with that?"
Then I remember it's just a computer, it doesn't know any better, so I just have to excuse its poor manners.